Upcoming or Recent Events
---
03-10-2014 - Des Musiciens & des Guerres, à La Médiathèque François Mitterrand, dans le cadre des commémorations de la Grande Guerre
« Un concert d'une rare beauté »...
L'union - lundi 6/10/2014
.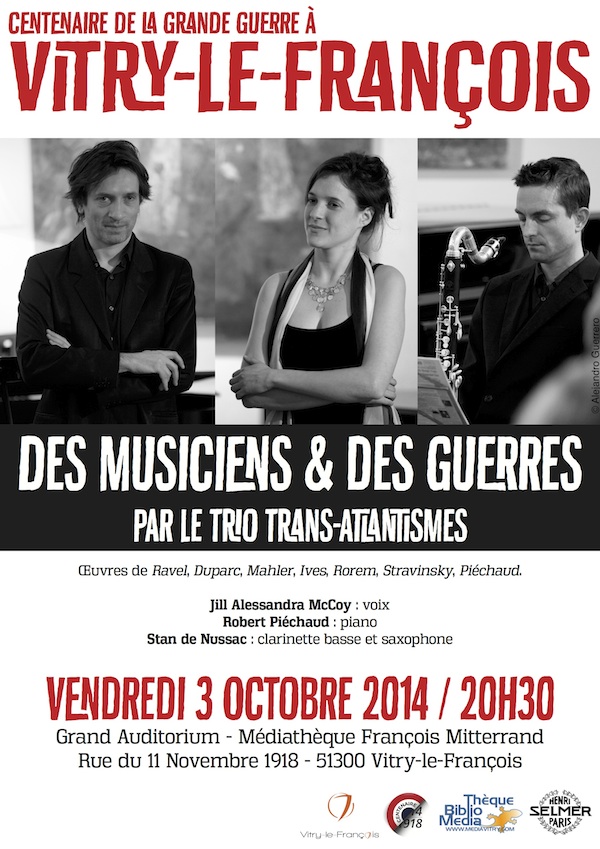 Venredi 3 octobre 2014, 20h30
Works by: Mahler, Ives, Stravinsky, Bartók,
Rorem, Ravel, Piéchaud
---
Sunday March 9 2014, 6pm - Tell me the Truth about Love!, at the Collège Franco-Britannique, the trio (+1) with special guest Louise Weeke! (brass)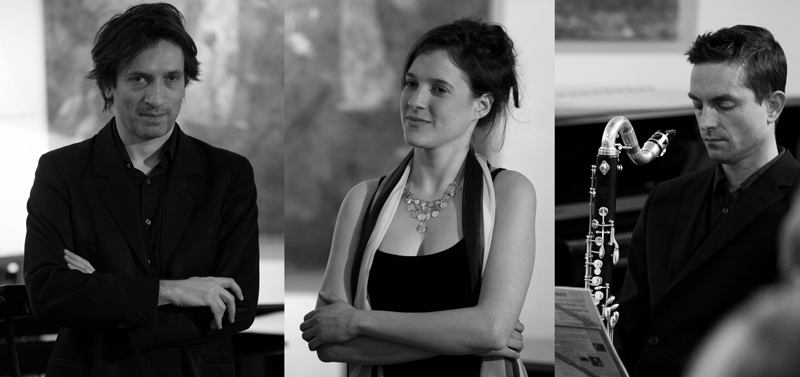 Works by Britten, Stravinsky, Ives, Mahler, Piéchaud.
Auditorium du Collège Franco-Britannique
Cité Universitaire Internationale de Paris
17 Boulevard Jourdan | 75014 Paris
RER B : Cité Universitaire
Free admittance, pay-as-you-wish
---
Sunday November 17 2013, 4pm - American & French music at the American Cathedral, Paris.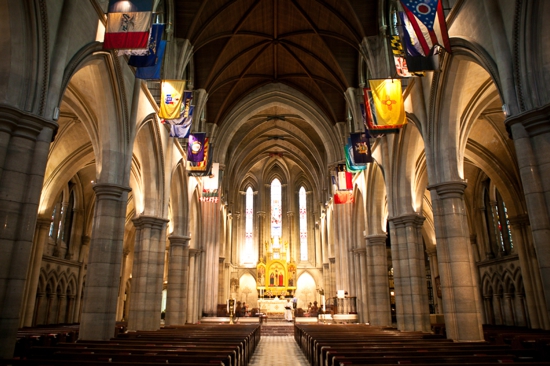 Works by Ravel, Copland, Ives, Duparc, Rorem, Piéchaud.
23, Avenue George V, 75008 Paris. Free admittance.
---
18-19 juillet 2013 - 2 programmes au Théâtre de l'Île Saint-Louis Paul Rey :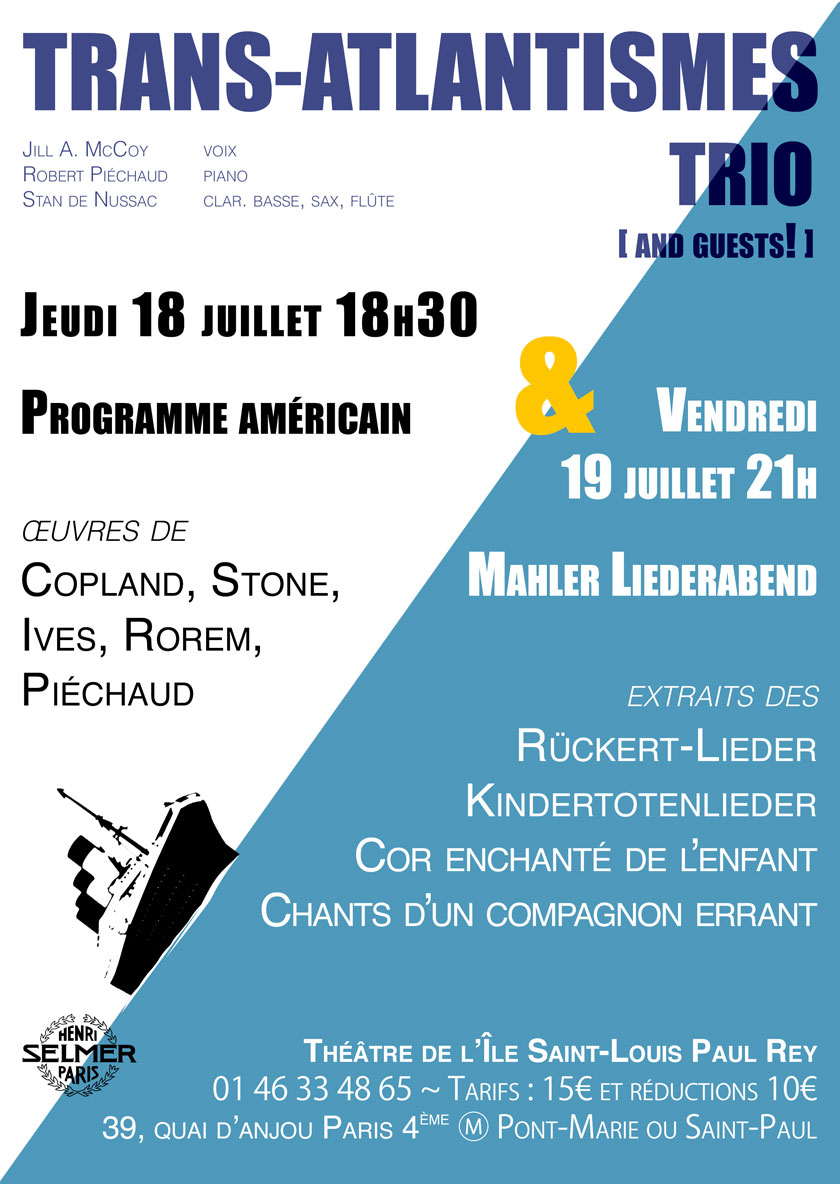 Jeudi 18 juillet 2013, 18h30 : Programme américain
œuvres de Copland, Ives, Stone, Rorem, Piéchaud
Vendredi 19 juillet 2013, 21h00 : Mahler Liederabend
Extraits des Rückert-Lieder, Kindertotenlieder, Chant d'un compagnon errant, Cor enchanté de l'enfant.
39, quai d'Anjou, 75004 Paris 4ème, 01 46 33 48 65
---
28-03-2013 - Des Musiciens et des Guerres, à Philomuses: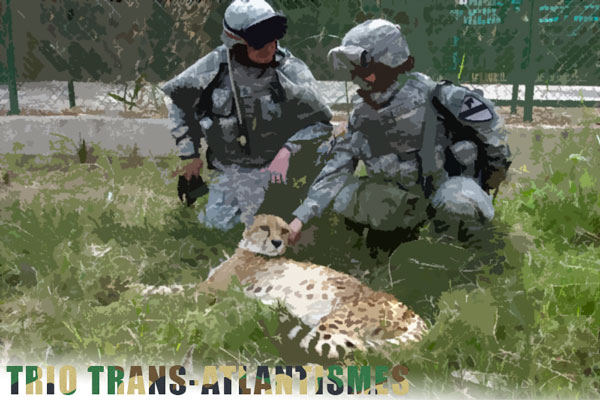 Jeudi 28 mars 2013, 20h00
Works by: Mahler, Ives, Stravinsky, Bartók,
Rorem, Ravel, Piéchaud


55, quai des Grands Augustins, 75006 Paris, 01 42 29 59 36
e-mail: philomuses@wanadoo.fr
Réservation indispensable !
S'il est vrai que les guerres sont toujours terribles, les musiciens et les artistes y trouvent paradoxalement une source d'inspiration, s'attachant ici et là à des aspects inattendus, intimes ou improbables des bouleversements que les conflits forcément engendrent.
Des Musiciens et des Guerres, fresque musicale du Trio Trans-Atlantismes rassemblant des œuvres vocales de Mahler jusqu'à aujourd'hui, invite ainsi le public à de singulières rencontres, tels les occupants égarés du zoo de Baghdad, des déserteurs aux destins contrastés, des oiseaux déboussolés dans le Tennessee, des morts qui fleurissent comme les coquelicots dans les Flandres, ou un chat insoucieux... Autant d'éléments qui se répondent en un vaste cycle.
Exigeant dans son choix de répertoire rarement entendu, ne s'attachant pas à un conflit particulier, traversant les langues, ce programme couvre un temps et un territoire assez vastes, avec une logique plus poétique que chronologique : les guerres soi-disant « en dentelle » du XVIIIème siècle (Des Knaben Wunderhorn de Mahler), la 2nde guerre en Irak (The Baghdad Zoo), la Guerre de Sécession (Shiloh), et bien sûr la « Grande Guerre » de 14-18, avec Tom Sails Away et In Flanders Fields de Charles Ives, et les Trois beaux oiseaux du Paradis de Ravel, le tout dans des arrangements inédits ou des compositions originales.
Appuyées par quelques accessoires - de vieux instruments de fanfare, un sac, des godillots, une couverture, un peu de correspondance -, une dramaturgie et une poésie uniques s'installent, faisant jaillir de la musique des images, tantôt puissantes, tantôt fragiles ou fugaces, drôles parfois, émouvantes toujours.
---
26-01-2013 - Tapage Diurne par Bruit de Musique, At Ackenbush: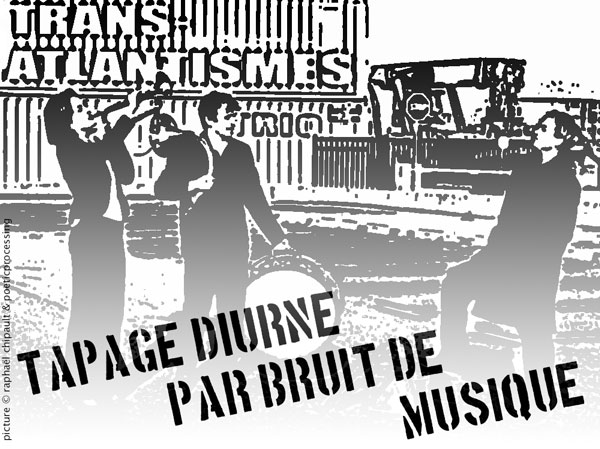 Samedi 26 janvier 2013, 20h30
Works by: G. Mahler, C. Ives, Stravinsky, B. Bartók,
Ned Rorem, Frédérick Martin (world premiere), Robert Piéchaud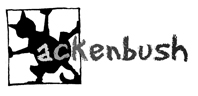 3 Rue Raymond Fassin, 92240 Malakoff, +33 (0)9 79 55 61 90
---
17-12-2012 - Of Wars & Musicians, , at 19PaulfFort, Paris: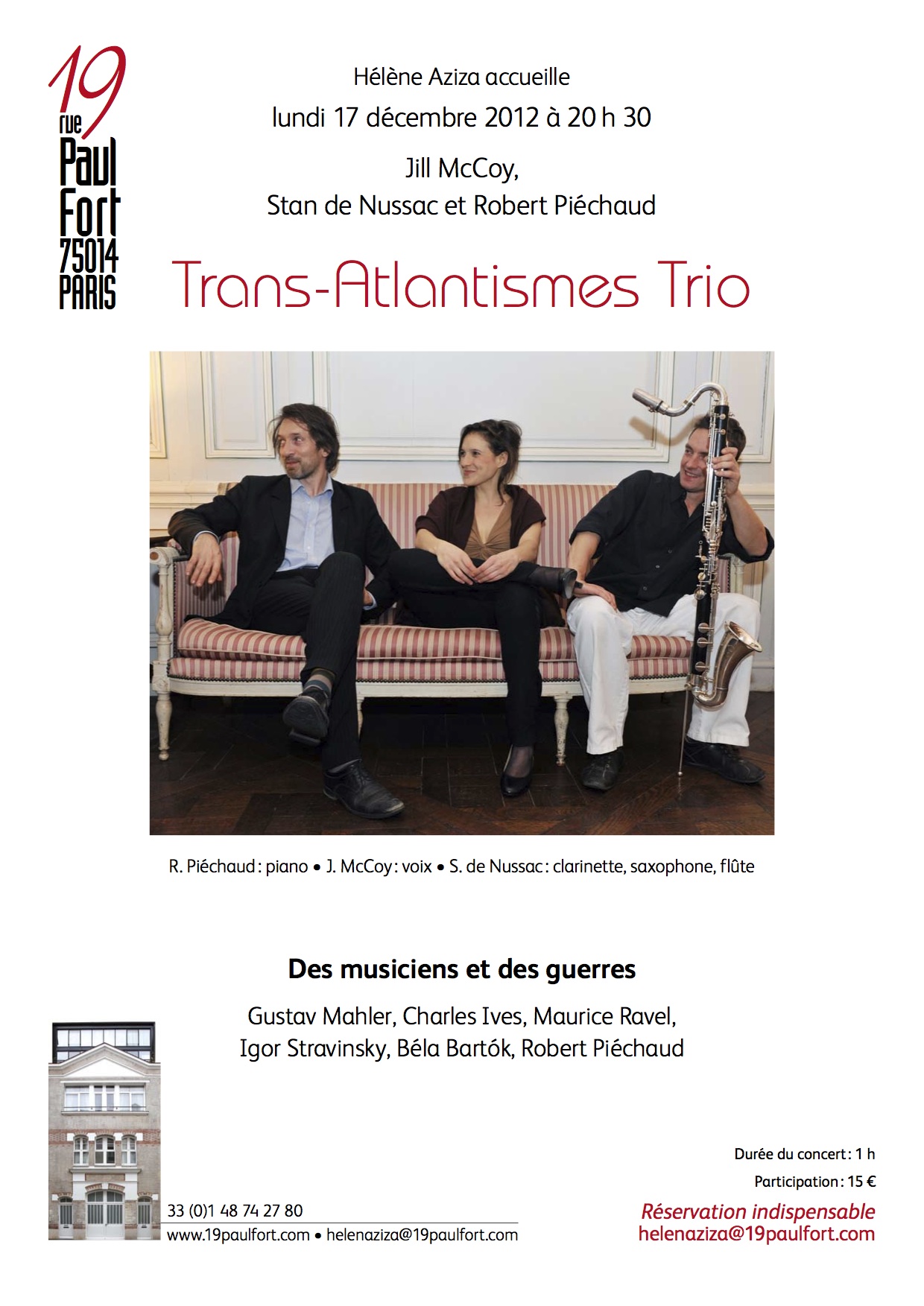 ---
26-09-2012 - Of Wars & Musicians, , Paris 10th arrondissement City Hall: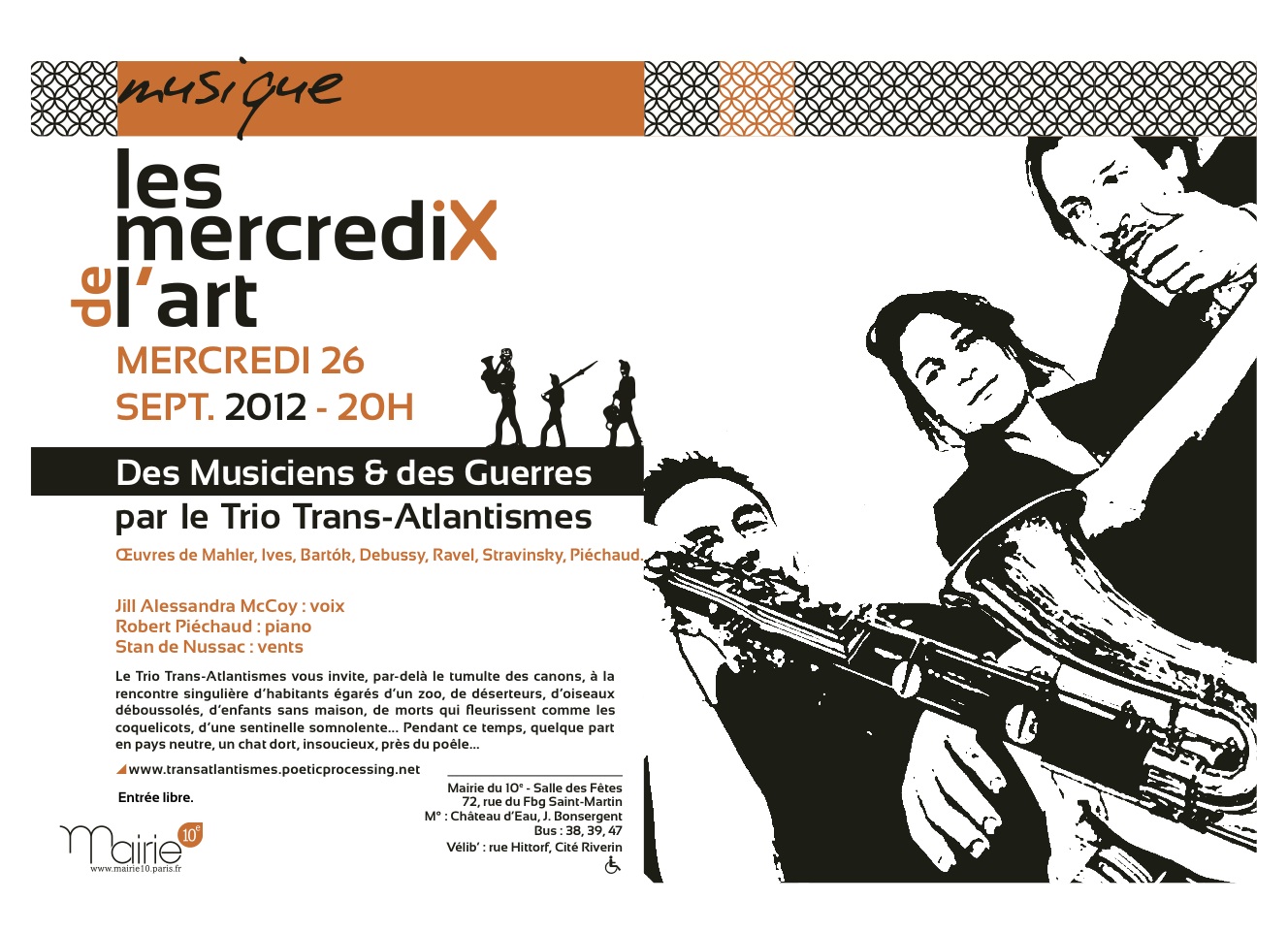 ---
11-07-2011 - Paris Début, , Église Saint-Eustache, Paris: